Short Synopsis: The JC De La Torre classic is back and better than ever. In 2005, Ancient Rising introduced the world to Dan Ryan, the hunt for Atlantis and the Greek Gods. Called by reviewers as "breathless, moving at a breakneck speed" and "fast moving adventure that fits into the Clive Cussler/Dan Brown mode," the novel has become a cult phenomenon that endures. The author is re-releasing this novel as a companion to the 3D audiobook experience that features award winning radio theater personality Joe Bevilacqua and has been listened to around the world on Sirius/XM. This new version of Ancient Rising offers a tighter, better paced story and a new foreword by the author giving intimate background on the genesis of the Rise of the Ancients saga. A must for sci-fi readers and action/adventure enthusiasts.
Book Details:
Printed version-
Printed: Paperback, 340 pages, 5.0 x 8.0 in., Perfect-bound
ISBN-10: 0978527267
ISBN-13: 978-0-9785272-6-6
Paperback Suggested Retail Price: $9.95 BUY NOW AT AMAZON
Copyright Year: © 2011 DLT Atlantis Publishing
Original Copyright Year: © 2006 Luna Brillante Publishing
E-Book Version–
All formats available including Kindle, IPhone
E-book Suggested Retail Price: 99¢ AT SMASHWORDS
Amazon Kindle Version: 99¢ Buy Now at Amazon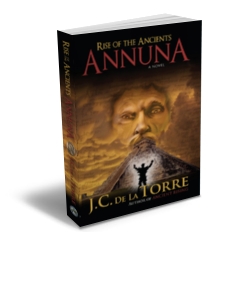 Synopsis : The latest two books of the Rise of the Ancients series combined into one action packed novel. Book II – Ancient Destruction picks up where Ancient Rising left off as Dan Ryan and Prometheus battles Zeus, Poseidon and the other Gods as they race to a secret location that could be the catalyst to saving mankind. While the battle wages on, we learn the origin of man, the rise to power of the Gods, and the fall of Atlantis. Finally, in BOOK III – Rise of the Annuna – Ryan must go through Heaven and Hell, face his own internal demons, and convince the Annuna to join in a climactic battle with humanity hanging in the balance.
 Book Details:
Printed version– Paperback, 292 pages, 5.0 x 8.0 in.,
ISBN-10: 0978527232
ISBN-13: 978-0978527235
Paperback Suggested Retail Price: $9.99 BUY NOW FROM AMAZON
Copyright Year: © 2009 DLT Atlantis Publishing
E-Book Version- All formats available including Kindle, IPhone
Amazon Kindle Version: 99¢ Buy now From Amazon
E-book Suggested Retail Price: 99¢ FROM SMASHWORDS